Auto Moon Rock
AUTO-FEMINIZED
Height: 1.30 m - 1.50 m
THC: 25%
Harvest: 550-750 g/m2
Flowering: 67 days
Genetic: 55% Sativa, 35% Indica
Auto Moon Rock is a masterpiece of progressive breeding that Divine Seeds have presented to experienced valuers wishing for new impressions. Fits perfectly for making moonrocks due to its mellowness: even though a moonrock still gets you immobilized, it is still euphoric. Its Canadian authors crossed a sturdy exotic-smelling Nepalese Sativa with an especially resinous and potent Afghani Indica. The result is a bright tasting Sativa-dominant with an intricate smell combining pineapple guava, mint and fir. Even without making actual moon rocks, this cannabis is a mixture of unique flavor and happy energetic tripping.
Growing Auto Moon Rock
First experience? Auto Moon Rock is sturdy and doesn't suffer from illnesses much. Great for both novice and advanced growers. Indoors use a 12-16 litres pot. This universal strain demonstrates vigor and productivity in any growing environment: outdoor plantations, grow boxes, greenhouses and terraces. Do not transplant plants (especially during vegetation). More Sativa it its look, Auto Moon Rock has prolonged leaves and buds and a narrow structure. Gets branchier with the help of training: LST or ScroG. The smell is intensive, but hardly pungent. Auto Moon Rock can be grown out of doors without much surveillance, but excessive moisture can be a problem: cover your plantation in rainy weeks. Further into blooming Auto Moon Rock gathers midsize buds in clusters that make one think of grapes. Ready for outdoor harvesting by early September.
Auto Moon Rock Effects
So, what does this piny aroma stand for? A potent relaxant, it combines an ability to kill spasms with a stimulating power. The good thing is, unlike most strong Sativas Auto Moon Rock never causes any tension, rush or paranoia. Hence, for your first acquaintance with Sativa this strain is one of the best. In therapy Auto Moon Rock is efficient against appetite disorders, nausea, depression and anxiety. Great for a vast range of recreational smoking cases: help yourself to a serene picnic or a mind-blowing gig, or a productive raid aimed at your work/creativity. The effects last for 2 - 2.5 hours (or 4-5 hours if you make moonrocks). Best consumed at any daytime.
Reviews (1)
Related Products
Auto Blue Cheese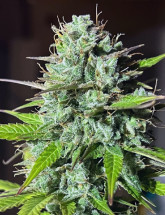 Auto Pablo Escobar