Auto Opium
AUTO-FEMINIZED
Height: 150cm - 200cm
THC: 29%
Harvest: 1000 g / m2
Type: Indica / Sativa / Ruderalis
Flowering: 60-63 days
Origin: Afghanistan and Canada
Country: Canada
Opium seeds
This variety is a magnificent hybrid based on the ruderalis, which allows it to blossom independently in different light modes. Thanks to the excellent work of the Canadian breeders who produced this autocvet, Sativa ( Sativa seeds ) is present in almost equal parts in the final product and Indication . And the percentage of THC content with proper care is 29%, therefore the opium is recommended for use only by experienced connoisseurs of cannabis. Buy cannabis seeds can be cash on delivery in any city of Ukraine - choose us and we will prove that we are the best store of marijuana seeds!
Buy cannabis seeds & nbsp; Auto Opium in "Bob Marley" - we guarantee quality!
Mature shrubs have a wonderful view, because completely, including cones and leaves, are covered with shiny crystals. The orange color of the stamens on the cones gives the plant an exotic look. Marijuana Auto Opium is an unpretentious variety that has excellent immunity to fungal diseases, mold and insects. Do not be afraid of it and temperature changes, high humidity or short dryness of the soil. Therefore, it grows equally well in growboxes with automatic control of irrigation and lighting or in the wild. When using the grade Auto Opium gives a strong pleasant aroma and allows you to enjoy a great taste with notes of exotic fruits. A powerful effect captures a fairly long period, in which, at the same time, the adequacy of thinking remains. In medicine, it is recommended that the end product of this variety be used to relieve fatigue and stimulate psychic energy that promotes creative activity.
ATTENTION!
The price is for 1 seed. In the original packaging, 6 seeds, packing price (42 USD)
Reviews (3)
Related Products
Auto Gagarin feminised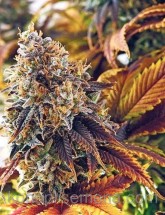 Auto Big Bang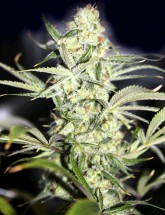 Auto Kabul