Auto Afghan Bullet
AUTO-FEMINIZED
Height: 60-80 cm
THC: 20 %
Harvest: 600 g / m2
Type: Indica / Ruderalis
Flowering: 55 days
Origin: Afghanistan
Country: Canada
Auto Afghan Bullet feminised cannabis is certainly one of the best and brightest representatives of autoflowering strains that can be grown from seeds. This amazing Indica combines its compact size and short life time with massive yielding and resin production! Divine Seeds experts bred several traditional Afghani landrace varieties together, then through numerous selection circles its parameters were enhanced. Extremely rich in sticky resin, with huge cones of flowers and a pungent dank scent, Afghan Bullet is truly admired both by its Canadian authors and connoisseurs from Afghanistan who know what top quality Indica is like.
Organic Properties of Auto Afghan Bullet
An excellent solution for novice growers, Auto Afghan Bullet causes no problems due to its strong health. Also, with its small size such a plant is easy to situate and convenient in handling. Probably the best indoor marijuana, it nonetheless has showed itself 100% successful out of doors and in greenhouses: productive, hashy and with prominent endurance. Unlike many feminized autoflowering strains, Auto Afghan Bullet is undemanding, resistant to drought, fungi and diseases. During the vegetative period, the plant develops a broad structure with strong branches, especially under a non-stress training like LST or ScroG. Further plants get densely covered with thick cones, which can be pleasantly harvested as soon as 70-80 days after germination. The resulting product can be enjoyed both in its original form and as hashish - the traditional style in Afghanistan and Pakistan.

Auto Afghan Bullet Impact
This smoke induces a deep and long relaxation, relieves stress and distracts from unpleasant thoughts. Big portions might even make the user feel illusory. This classic Afghani-flavored smoke leaves an earthy aftertaste reminiscent of strong Puer tea. What follows is a state of day-dreaming: the body mildens, the mind comes to ease, any chronical tension is dissolved immediately. An overly potent Indica like this isn't normally regarded as a social smoke, however slow conversation can be very emotional and warm with this fragrant musky bud. Medical use makes sense when confronting sleep and appetite disorders, seizures and cramps, PTSD, nausea, anger issues. The psychedelic impact lasts for 2 hours.
Warning: this description of an item only applies to residents of the Netherlands, Canada and other countries where medicinal use of cannabis is legal.

ATTENTION!
The price is for 1 seed. The original packaging offers 6 seeds at 30 USD price.
Reviews (1)
Related Products
Auto Big Bang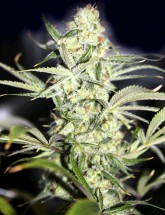 Auto Candy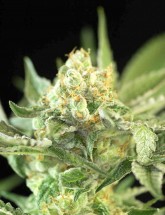 Auto Kabul