Auto Black Opium
AUTO-FEMINIZED
Height: 130-165 sm
THC: 29%
Flowering: 60-63 days
Genetic: 80% Indica / 15% Sativa / 5% Ruderalis
Auto Black Opium
This unique genotype was created after the vast success of Auto Opium, but Auto Black Opium has now fans of its own. Rumor has it the strain has a part of Blueberry genes, but the exact formula is kept in secret. Officially, the happy parents of this prodigy kid are the Afghani Indica (that Auto Opium was bred from) crossed with a violet Colombian Sativa, highly potent and productive. Since the idea was to create a more Indica-style variety, Divine Seeds breeders managed to keep its height in the medium section.
Growing Auto Black Opium
Just as the whole Opium family, it is a universal strain that fits all traditional cannabis growing environments. Not for a 100% newbie, Auto Black Opium can still be handled by users who know the basics. Indoors this cannabis requires a proper aeration: without a substitute for wind no strong stem can be developed. Also be ready for the massive stench that is pleasantly decorated by berry aroma. Resistant to molds unless exposed to stale air or excessive moisture (especially during blooming). Provide a lower temperature during the last three weeks of flowering to reveal the violet coloring. Ready for outdoor harvesting by end of August.
Auto Black Opium Effects
This elite smoke is mostly devoted to gourmands and whole-life smokers who can appreciate its flamboyant berry taste as well as increased potency - 29% THC is real, Auto Black Opium can knock people out. Medical users can benefit from this weed's painkilling properties. Prominently sedative, Auto Black Opium is also psychedelic enough to surprise any valuer with changes perception and conscience that last for solid 3 hours. Having a look at these dense black bomb-like buds makes one imagine an out-of-this-world experience - and when you actually feel its weight, the impacts always appears stronger than expected. By the way, first 5-10 minutes after smoking may get a user hyperactive, stimulated by Sativa cerebral high. Good for parties with little conversation, even better for intimate smoking with closest people. Medically applied against insomnia, nausea, appetite disorders, epilepsy, scattered sclerosis. More appropriate for night time use.

Reviews (1)
Related Products
Blue Cheese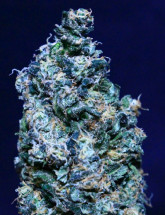 Auto Blue Cheese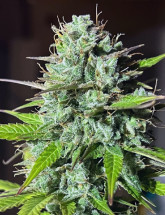 Auto Pablo Escobar