Blue Cheese Feminised
Divine Seeds
Height: 160 - 210 cm
THC: 22%
Harvest: 700 - 850 g/m2
Type: 80% Indica / 20% Sativa
Flowering: 60 days
Origin: Thailand / Colombia / Afghanistan
Country: Canada
Among experienced cannabis connoisseurs Blue Cheese is a highly-valued variety with its odor reminiscent of sour-sweet berry and cheese as well as beautiful appearance. This resinous and fragrant bush offered by Divine Seeds was bred by crossing two topmost popular strains in the world: Blueberry, which gave our hero its vivid violet and purple coloring, and of course Cheese - another classical variety that, simply said, is a version of Skunk. The latter has always been famous for its productive structure, flamboyant development and strong health. So, what's the outcome? By means of selection, Divine Seeds made Blue Cheese noticeably taller, saving its broad built. Thus the yielding capacity of this fragrant cannabis has been enhanced by 35%. Among its parentage you will find Afghani, Thai, Mexican and Colombian landrace varieties.


Appearance and Characteristic Features of Blue Cheese
Fully inheriting the vivid and sturdy characher of Skunks, Blue Cheese remains a typical Indica-dominant strain with all the ease in handling that follows. Although its increased height has certainly changed the appropritate style of cultivation, the authors underline that while breeding this strain it wasn't difficult to obtain mother plants of mid size. For that purpose either broader and less deep pots had to be used, or a training like FIM, topping or ScroG that promoted the final weight. Vegetating samples benefited from their healthy and strong roots, quickly developing juicy branches and stems. This construction was certainly meant to hold the substantial weight of future blossom. When switched to blooming, the marijuana intensified its odor, gaining skunky and piny hints, it also showed 1-2 weeks of extremely active growth along with beautiful white hairs.
When this stretching was over, the floral mass was fast to spread along branches and main stems, by the end of growth (approximately 5-6 week of flowering) giving each bush a corn-like shape. At this stage, the odor was mostly berries and pine. The buds formed, their ripening began: Blue Cheese picked up the delicate job of producing resin, terpenes and polysaccharides. 3-4 weeks later when about 60% of white trichomas had turned brown, the appetizing smell would reach its final tune: something like a berry cheesecake with Indian spices and pine syrrup. If disposed to lower air temperature, blue / violet / purple shades would give Blue Cheese weed a likeness to some rare kinds of roses (perhaps crossed with cannabis).


Tripping on Blue Cheese Feminised
These buds feel good in hands: weighty, with a strong scent of a cheese sandwich topped with blueberry jam. An enhanced amount of resin makes them sticky beyond any measure! On the inhale, the flavor is mostly cheese, while sour and sweet berry hints are noticeable on the exhale. What hits the user first is a feeling of placidity, since Blue Cheese is well-known as a creeper - it doesn't block you abruptly with 5x gravity like
Opium
would. In this case, the first feeling is happiness and mellow relaxation. Most people actually experience a desire to communicate at this stage. In about 30 minutes it gives way to introspection that lasts for about 90 minutes. "Immerse your soul in love", says Blue Cheese to human brain - it feels best to listen to music or to look at something beautiful. Slow meditative sex is also an amazing option. The stoning phase will be followed with about 1 hour's aftertrace. In medical purposes, this bud can be efficient against irritability, appetite and sleep disorders, muscle spasms and cramps, minor headaches.

Warning: this description of an item only applies to residents of the Netherlands, Canada and other countries where medicinal use of cannabis is legal.

Reviews (1)
Related Products
Opium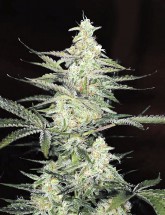 Auto Big Bang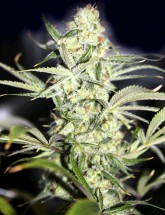 Divine Sativa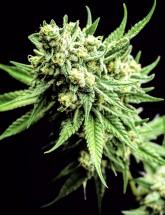 White Widow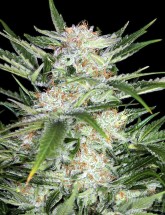 Bubble Gum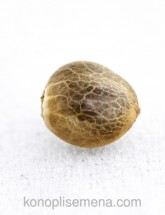 Pablo Escobar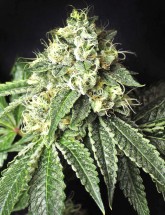 Out of Space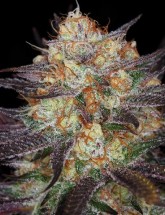 Power Africa Feminised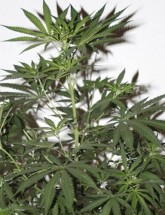 Satori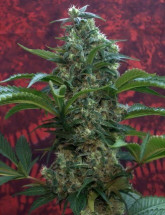 Mama Thai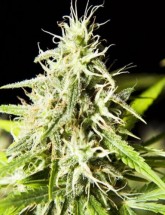 LSD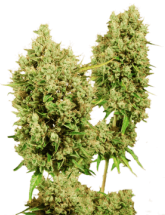 Auto Black Opium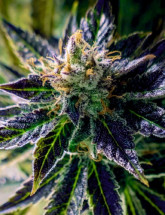 Divine OG Kush