Bubble Gum
AVERAGE (80-150CM)
Height: 80-110cm
THC: unknown
Harvest: 300-450 grams
Type: Sativa / Indica hybrid
Flowering: 8 weeks in Indore
Gather: mid-end of October
Genetic: Hindu Kush
The Bubble Gum plant has small bright-green cones with orange hairs. The taste of this breed is slack, reminiscent of the zebra crack. The smell during flowering is strong. The Bubble Gum effect appears in a heightened community. This grade can be used in medicine for fighting with trauma, stress and for improving the mood, so Bubble Gum grade is bought for relaxation
Features of Bubble Gum hemp seeds
There are several strains in the world of contraception, the genetic origin of which is surely unknown. Plant breeders are particularly confusing, when some kind of strain, is offered in two or more groups of the same name. There is a question: in whom are the original, but for whom? Bubble Gum is one of such strong views. At least three seed banks really offer their own versions - GanjaSeeds (Prague, Czech Republic), T.H. Seeds and Serious Seeds (located in Amsterdam). In addition, there is still a lot of unbreakable copies on the Internet. Therefore, it is necessary to install the real roots of Bubble Gum. The plant in Indiana (USA) developed the original material during the 80-ies. In 1993, this guy gave three very different female assortments of Bubble Gum plants for Adam from T.H. Seeds, as well as Simon and Tony (Simon is the developer of Serious Seeds, and Tony-SagarmathaSeeds). Thus, this type appeared in the Netherlands with three plants. And then various new chapters were written in the history of the breeding of this breed. Three plant breeders - three ways of replenishment. These three professionals of breeding and growing cannabis decided to deduce three different plants from those genetic types that they received. For Simon, five generations were needed to receive the required result. But there was a problem with the official name of it. He argues that it was not possible to give the exact percentage ratio of sativa / indica in this language, but it is known that the genetic Bubble Gum consists of three different exotic
Sativa seeds
, among them Mexican, Colombian and Afghan indicators.
Buy Bubble Gum seeds with fast delivery
Interestingly, Bubble Gum is the only natural strain (without the hybrid F1), in this manner, it is particularly homogeneous. Simon distinguishes such features of this breed: Bubble Gum demonstrustrates the uniform plants grown from such seeds. This is a strong and beautiful plant, which grows heavy, without the need to bind heavy bumps up. At the initial stage, seedlings can be tender, so you need to take care of it at this stage. It is important not to allow it to grow on adjacent plants of this breed, which can grow faster. Within two weeks, the shrub grows and begins to grow with the same rapidity as other plants. This delay in the development can be explained by the fact that the Bubble Gum is a benthic strain and, therefore, does not have such a hybrid force (fast and strong growth) as in F1 hybrids. Considering this, it is necessary to sow plants of such a variety, for example, on four seeds. Then they can appear from the earth for a day later than the ordinary, but they will grow right and at the same time. And in fact, the general speed of growth is slow at first, but it increases significantly after two weeks. When the leaves were formed, they looked quite unusual: dark green (typical indica features), but rather narrow and pointed (typical for Sativa).
Reviews (2)
Related Products
Auto Bob feminised
Opium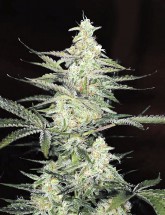 Auto Big Bang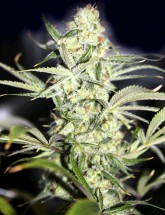 Out of Space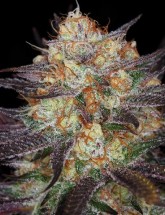 OG Kush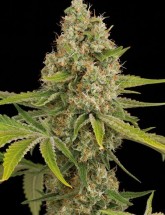 Blue Cheese