AK-48
AVERAGE (80-150CM)
Height: 130-180 cm
THC: 18-24%
Harvest: 400 - 500 g / m²
Type: Indica / Sativa
Flowering: 49 - 63 days
Gather: Mid September
Genetic: Colombian Gold / Thai / Mexican / Afghani
Country: Spain
AK-48 genesis
AK-48 is derived from the Jock Horror and Ice varieties. Thus, along the line Ice his ancestors are different phenotypes of Afghani, Skunk, Northern Lights and Shiva; from the side of the Jock Horror - Northern Lights, Skunk and Haze Satellites.
Cultivation & nbsp;
AK-48 is unique in that, in conditions of perfect care and sufficient lighting, its flowering takes 48 days. Such a fast maturation period almost equates AK-48 to auto-colors , but since it is a photoperiodic variety, vegetation can last as long as you want discretion - and the volume of the crop due to a sufficiently long vegetation may increase by one and a half times. Inflorescences large, with bright orange trichomes. The variety belongs to the middle-smelling and on the color publishes a not very noticeable coniferous-grapefruit smell (sometimes comes the cherry phenotype). The leaves are wide. Height up to 1,8 m. More suitable for closed ground. The yield is 400-500 g / m2.
The effect of AK 48
THC is 21-26% depending on the quality of cultivation. In addition, it is possible to regulate the action of indie and sativa: if you hold a harvester, when half of the trichomes have acquired a brown color, the effect of indices will be more is expressed; if you have time to do it - a powerful sativa. The action is euphoria and thirst for activity, relieves pain syndromes (including joint pain) and side effects of chemotherapy, strongly stimulates appetite, couch lock in deep doses and deep sleep, promotes meditation and enhances creativity.
Reviews (1)
Related Products
Auto Kali Mist Feminised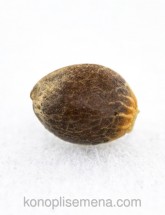 AK-47 XL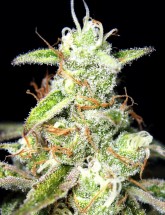 LSD