Auto Kali Mist Feminised
AUTO-FEMINIZED
Height: mean
THC:  22%
Type: Sativa
Country: Spain
Odor during flowering: medium Auto Kali Mist - strong sativa (there is an opinion that this is the best sativa that exists today). As a result, the plant turns out to be strong and slender, such a classic in the world of sativa. At the final stage, you will be able to observe an abundance of "well-fed" cones and, accordingly, the yield of this variety will exceed your expectations. Experts often choose Auto Kali Mist for growing for personal purposes. Note that if you are a woman, he will cope with menstrual pains. Has a soft, pleasant taste. Marked the first place on the Cannabis Cup back in 1995. Auto Kali Mist is an improved player in the Champions League Sativa. Auto Kali Mist is one of the best strains of Sativa in the world. Has 90% genetics of Sativa. Plants of this kind grow tall, with a small number of leaves. This strain gives thick bushes full of fluffy cones, and you can notice a significant increase in yield. The structure of the plant and a small number of leaves allow the light to travel all the way to the lower branches, which gives the lower kidneys a full development. If you plant such a plant outdoors at the beginning of the year, then it can grow very high.
Features of cannabis & nbsp; Auto Kali Mist Feminised
In this bush, you can expect spiral flowers with a high resin content and a delicious spicy aroma. Auto Kali Mist is often chosen by experts, connoisseurs of quality cannabis. This strain is especially liked by women: in addition to pure pleasure from smoking, its effectiveness against menstrual pain is observed. In 2000 there was an improvement in this variety, which contributed to an even greater increase in yields. Auto Kali Mist proved to be a very stable form (even outdoors in bad weather), thanks to its structure. Auto Kali Mist has a very subtle and taste and effect, which led to the victory in the Cannabis Cup: first place in 1995 (Hydro Cup). A new and improved version in 2000 won the Seed Company Sativa Cup. Auto Kali Mist Feminised gives a very strong, clear and exciting effect. When grown in room conditions, the growth time is 5-10 days. The flowering period is 70-90 days. The harvest of house plants of the type Auto Kali Mist can be obtained 350-500 grams per square meter. meter. The time of harvesting with growth in the open air or in a greenhouse is November.
Buy cannabis seeds Auto Kali Mist Feminised - champion Sativa
The use of this variety leads to an immediate extreme revitalization of both the body and the soul, causing a feeling of lightness, cheerfulness. Feels like Auto Kali Mist is like an injection of a long life force and energy. If you are tired and can not go any more, this sort of cannabis will give you strength, lead and not be able to sit still. When smoking there is a feeling of incredible energy, which captures the mind and body. Auto Kali Mist has this rare ability to go through your fatigue and fog in your head, removing all passive thoughts. Perfect variety that makes you move, dance, increases sociability, love of others. , dance like a dervish and communicate brightly with other guests. Auto Kali Mist works exactly the opposite way to Indica , which increases your seclusion, passivity and drowsiness.
History & nbsp; of the Kali Mist variety
Auto Kali Mist was bred by Simon, the founder and owner of the Serious Seeds , in 1993.
Soon after his first appearance in the world of cannabis in 1994, Kali Mist won the first Hydro Cup award in the High Times Cannabis Cup (1995, Amsterdam). The long lull in the development of this variety eventually led to a breakthrough: in the High Times Cup 2000. In this competition the judges were exclusively women who came to a unanimous decision - the Auto Kali Mist strain has the highest effect, the most attractive appearance and the best flavor. What an amazing comeback! Five years after his first success in the High Times Cannabis Cup, the brand Kali Mist finally became the world official champion of Sativa. Simon confirms that Kali Mist is very popular among women in general. In 2004, Kali Mist took third place in High Life Cup Spain, awarded on the occasion of High Life Fair in Barcelona 2004. For this contest the plants were grown outdoors in Spain. Many people, thinking about the genetics of Auto Kali Mist, often claimed that it contains the original genetics of Haze (it's not), because Simon did not exactly disclose the "pedigree" of this variety. Even if he wanted to disclose the origin of the variety, he could not, because he received it from different plant breeders who did not know how they got their plant. Nevertheless, some details are known for certain. We hope, when buying cannabis seeds Auto Kali Mist Fem you will be satisfied !
Reviews (1)
Related Products
Auto Bob feminised
Auto AK-47 XL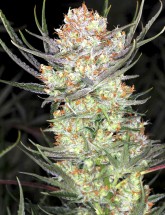 AK-47 XL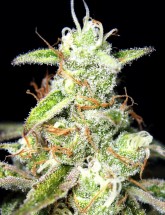 AK-48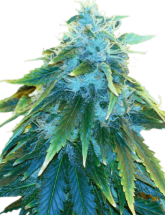 Auto Pablo Escobar